MINNESOTA: "Corn Dress" was created in September of 2004, while I was an artist-in-residence at the New York Mills Regional Cultural Center in New York Mills, Minnesota, supported in part by a grant from the Jerome Foundation. "Corn Dress" was created with a 14-foot-tall welded steel frame, complete with a built-in ladder. It was 6-foot wide at its base. This sculpture was made possible by the hands of many wonderful volunteers, in a corn field belonging to Ray Sonnenberg and Brian Sillanpa of Homestead Valley Estates. Photo by Kevin Cederstrom.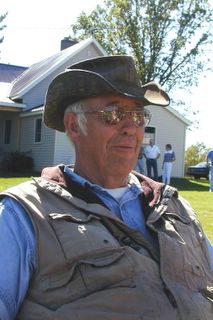 This sculpture is dedicated to the memory of Ray Sonnenberg, whose humor and goodwill charmed the creation of "Corn Dress". Ray passed away shortly after I left Minnesota, and he will be missed by all who were lucky enough to know him.

Assisiting in the construction of the "Corn Dress" frame were students from Paul Detloff's welding class at New York Mills high school.

About 200 people visited "Corn Dress" the day it opened, with some visitors driving over 60 miles to see it. It was covered by several local newspapers and television stations.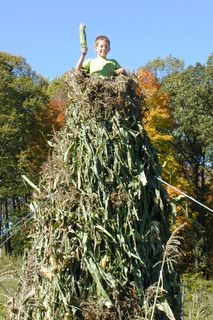 I think children enjoyed the corn dress most of all, standing in line to climb up it over and over all day.

Stacy takes in the view.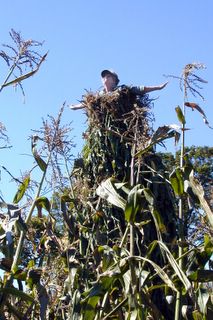 Beverly flying high.

Ray waves to passing trucks.

After enjoying one week of visitors, "Corn Dress" met a fiery end in a bonfire attended by the local volunteers who helped to create it.