The next dress project took place in Seely, Wisconsin at Castle Gardens, a small home-farm owned by Dan and Margaret Krause. While working on this project I stayed at my friend Amy Maxon's family cabin in nearby Stone Lake. We used tree limbs recently blown off the many white pines at Castle Gardens. "Phorpa" the dog thought my pile of materials was a bed made just for her.

Josey was visiting Castle Garens and kept me company while I built the dress form. I made her a crown with extra chicken wire and she filled it with flowers. Here she is wearing her masterpiece.

Karen and I worked late into the night to finish the 12-foot-tall dress form for "White Pine Dress".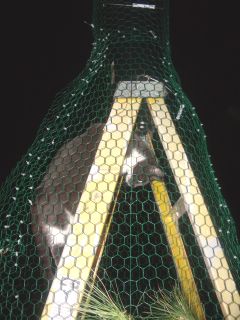 With a little help from "Gray Nose" the cat.

Dan graced us with music from his home-made Native American flute.

Attaching the branches to the dress form took five people about four hours to complete. Here I am with Karen and Calvin.

I was just another tree for the cat to climb.

The completed "White Pine Dress"

Karen looked great in "Pine Dress"!

And Calvin gave it a try-on as well…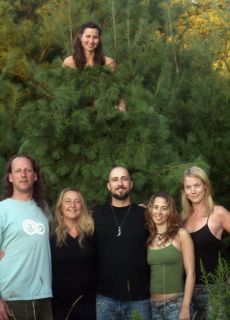 The crew! Many, many thanks to my friends, helpers and hosts. From left: Dan Krause, Margaret Krause, Calvin Ramseyer, Amy Maxon and Karen O'Mara.